The Nuclear Survival Guide: 3 Lifesaving Tips for Surviving a Nuclear Fallout
"Even failed tests move Pyongyang closer to its announced goal: possessing nuclear weapons capable of hitting U.S. cities." - The Atlantic
In this free Manward Digest report, you will discover:
3 Essential Steps You Must Take to Protect Your Family in a Nuclear Fallout
The First Critical Decision You Must Make When a Nuclear Blast Occurs
How to Radiation-Proof Your Body... for Less Than $10
Safeguard Your Water Supply From Contaminants With This Lifesaving Item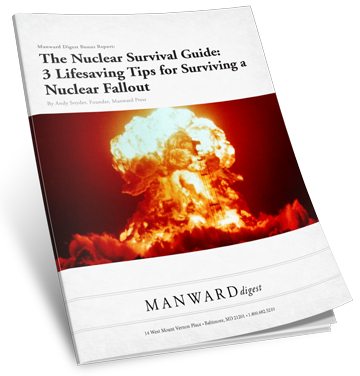 Enter your email address to receive a FREE copy of this just released report…
You will also receive Manward Digest, an e-letter founded on the scientifically proven idea that skills, knowledge and our relationships are what ultimately lead us to greater wealth and happiness.
Digest readers learn how to get more done with their day… earn and pass on wealth… prepare for disasters, from financial crises to nuclear attacks… and much more.
Each issue of this essential e-letter is about just one thing… publishing ideas that lead men to richer, fuller lives that overflow with freedom.