---
A Note From the Founder
I founded Manward Press, the ultra-unique publishing company behind Manward Letter, as a full-on attack on the debilitating notion that modern men desperately lack the traits that science proves are necessary to live a fulfilled, successful life. I spent months living in Alaska's wilderness, teaching men the vital skills and ideas they needed to thrive, and this was my way of "scaling up," going from changing hundreds of lives to changing hundreds of thousands of lives.
To bust through the barriers created by modern society, Manward focuses intently on just three scientifically proven ideas that all men must master in order to reach true fulfillment.
They are Liberty, Know-How and Connections.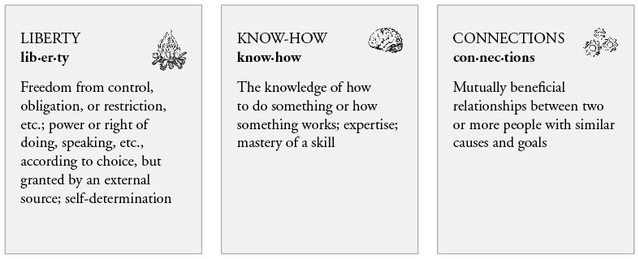 Your Online Experience
We often boast of the simple, easy-to-use nature of our website: www.manwardpress.com.
Everything you need is reachable with just a few clicks of the mouse.
Once you're logged in to Manward Letter, navigating your subscription is quite easy. Simply click the button that represents the information you're looking for. Archives of every issue, report and update we've ever published are available. Simply scroll up and down the page to find exactly what you're looking for.

Issues
Your monthly issues of Manward Letter are the heart of your subscription. It's where we'll discuss the in-depth details of our beloved Triad and where we'll delve into the specific tips, tricks and stock picks that will lead you to a more fulfilled and successful life.
Be on the lookout for your printed newsletter in your mailbox at the beginning of the month. While we do cherish the printed word, we will also send you a "courtesy copy" of the monthly letter via email a week or two in advance. It's our way of getting you the information as quickly as possible.
Although digital archives are always available on the site, we encourage all readers to physically archive each issue of Manward Letter. You never know when the lights will go out and you'll need to reference a skill or trick.
As a new subscriber, you may have already received an email with your latest issue. If not, you already have access to the online archives. Start reading.

Portfolios
It's not always easy to accept, but our wealth is often directly tied to our liberty. That's why investing is a core idea within Manward. For a man to truly feel free and fulfilled, not only must he have the skills and knowledge to understand his investments, but he must have the conviction to know he's putting his money where it will be treated best.
To lead our subscribers to the very best investments, Manward Letter features two straightforward portfolios.
The Everyman Portfolio is the place to start. Think of it as the foundation on which you'll build your financial fortress. It features a well-diversified portfolio of long-term assets that will provide security and reliable price appreciation.
These assets are not the kind we buy and sell frequently. They're meant to be held on to and cherished. Like a bottle of good wine, they're meant to be bought and put high on the shelf. When you blow the dust off – hopefully years later – the reward will be sweet and intoxicating.
The Own What You Know Portfolio is a bit different. While still not an in-and-out trading portfolio, the strategy behind it is built upon one of the greatest investment philosophies of our time… investing in the products we use.
Since we're focused on being good, successful men, many of the companies in the portfolio represent the sorts of things we buy or use on a daily basis. And if we're buying them… chances are millions of other men are, too.
This portfolio not only is a proven moneymaker, but adds some fun to the realm of investing.
Finally, a word about selling. Investing isn't just about buying the assets with the most upside potential. Selling is just as important. It's often an emotional, confusing process.
That's why we follow a strict selling policy.
Most often we'll use a set trailing price. But sometimes we'll sell when a trigger is hit. Either way, our rule is simple – we know when and why we'll sell before we buy. It's critical.
Reports
Your subscription to Manward Letter includes access to every report we publish.
These reports often contain need-to-know information, vital skills, tips and hacks, and – reader favorites – stock market insight and commentary.
Some of the reports discuss specific stocks. Unless otherwise noted, the stocks discussed are not included in either of the Letter's portfolios and therefore will not receive as much in-depth follow-up. Think of it this way. Yes, it's fun to look at and talk about fast cars, but we can do so without buying them. It's the same with many of these unique investment opportunities. We can look without buying.
Remember, our portfolios are strategically designed to maintain a specific balance and purpose. Our special reports, however, are used to highlight specific one-of-a-kind opportunities.
Updates
Between monthly issues, I will email you weekly updates. I will alert you to any news on the companies, portfolio changes and actions to take.
In addition, I'll share ideas on how to deal with the latest events happening in our ever-evolving world… and how we, as modern men, must navigate them to come out healthy and fulfilled no matter what is tossed our way.
Think of these weekly updates as a sort of bonus to your subscription. They're how we follow up on ideas we've discussed and share pertinent new information.
Remember, Connections are a vital piece of our Triad… These updates ensure we remain connected throughout the month.
Manward Press is dedicated to publishing ideas that lead men to richer, fuller lives that overflow with freedom.
I think you'll soon see we're onto something quite good.